Polyurethane Neonatal and Pediatric Enteral Only Feeding Tubes
NeoDevices is proud to present our full line of Enteral Extension Sets. As part of our exclusive Enteral Safety System (ESS), NeoDevices has developed a wide variety of Enteral Extension Sets designed specifically to enhance patient safety and maintain clinical flexibility. When examining the different products you will see that they range from compliance to the JCAHO requirement – 2006 Patient Safety Goals to sets that offer more flexibility. Key features that can be found on each set are:
DEHP Free – All of our products contain non- DEHP plasticizers.
Labeling – Each set has a visual reminder label "For Enteral Feeding Only".
Latex Free – All our sets are Latex Free.
Lipid Resistant – Our sets are Lipid Resistant.
Orange Stripe Tubing – This differentiates Enteral Tubing from IV Tubing.
Our Enteral Extension Sets are compatible with a variety of feeding tube hub designs from various manufacturers. When combining NeoDevices Enteral Extension Sets with NeoDevices Feeding Tubes you will be providing the hospital with orange color coordination which will dramatically increase patient safety.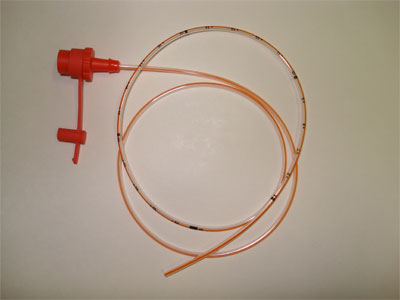 Polyurethane Feeding Tube with orange radiopaque stripe
NG/OG Feeding Tubes, FDA approved for long-term usage (up to 30 days)
Placement markings to 30cm
Polished tip to reduce esophageal trauma
Two distal holes to decrease stagnation
Available in 4.5Fr, 5.0Fr, 6.5Fr and 8.0Fr in 40cm, 60cm and 90cm lengths
Enteral Only Connector complying with JACHO requirements – 2006 National Patient Safety Goals and the Association for the advancement of Medical
Instrumentation (AAMI) and the American National Standard for Enteral Feeding Set Adapters and Connectors
MADE IN THE USA
| PRODUCT CODE | FR/LENGTH | QUANTITY |
| --- | --- | --- |
| FTS4.0P-EO | 4.0Fr. 40cm | 10/Box |
| FTS5.0P-EO | 5.0 Fr, 40cm | 10/Box |
| FTM5.0P-EO | 5.0 Fr, 60cm | 10/Box |
| FTL5.0P-EO | 5.0 Fr, 90cm | 10/Box |
| FTS6.5P-EO | 6.5 Fr, 40cm | 10/Box |
| FTM6.5P-EO | 6.5 Fr, 60cm | 10/Box |
| FTL6.5P-EO | 6.5 Fr, 90cm | 10/Box |
| FTS8.0P-EO | 8.0 Fr, 50cm | 10/Box |
| FTM8.0P-EO | 8.0 Fr, 60cm | 10/Box |
| FTL8.0P-EO | 8.0 Fr, 90cm | 10/Box |